We help our clients to achieve their goals by creating a safety net with our experience, know-how and network.
Today's business environments are changing fast. The need to go for new market areas is increasing, which means new geographical locations need to be covered for lucrative opportunities. To be able to successfully operate in the new market areas where risks emerge in a very unfamiliar way an updated security and risk management procedures are required. New partners, new geographical locations, new supply chains, how to identify the organizational vulnerabilities and to treat the risks in appropriate and efficient way?
The importance of transparency and social responsibility of business operations has increased and is expected to increase in the future as well. How can you guard the values and policies of your organization, when operations take you to totally new geographical locations? How to safeguard your operations when working with partners and cultures you may have only little or no experience of working with? What must we understand, avoid and do, to ensure our business stands on healthy and transparent base with all the critical risks in control?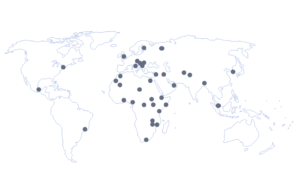 These are just few of the questions, where we can provide solutions and answers to. Our global experience of creating services in over 60 countries added with the digital know-how and human led approach, provides us a unique way to support you on the path to achieve the goals.
We approach each case by utilizing our service design procedures, to ensure that the tailored service meets the individual organizational requirements and culture. We are ready to support you as long as it's required, but our ultimate goal is to increase the performance level of your organization to reach the point where you can manage security and risk management operations with little or no dependencies from various service providers.