What is missing in security and risk management is the deep understanding of all levels in the organization. The service experience usually varies significantly when the data is collected from the executive level and compared to operational level, or vice versa. In the industry context this means that we are reaching beyond traditional boundaries by collecting new tools and approaches to both risk management work and its' implementation, the security services. Our focus is in culture oriented service design. Implementing risk management and security into everyday processes as a natural part of them is the key to success.
We have identified three key stages of business management. Our service portfolio is an iterative model for business / project life cycle management that is scalable to current and future needs. You can start from any stage or service currently needed.
We offer following services divided in identified stages of business management: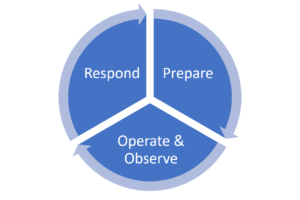 Prepare
Security culture development, corporate security network, proactive knowledge gathering and analyzation, knowhow and skill development, due diligence and security audit services.
Operate & Observe
Security management services, security and intelligence operations, threat management.
Respond
Crisis consultation, personal security, evacuation and search services, domestic and international operations.